Message from Trace
Hi Rick,
Could you mention my birthday bash on your blog please!
Older and wiser, but still plenty "flirty" next month I'm turning 30th!!!
And to celebrate I'm having a birthday meal at the Latin Lounge on Post Office Ave, Southport PR9 0US on Wednesday 14th December 2011, 7:30pm and would love it if you could be there!!!
There is a christmas menu on offer - 3 courses for £20 (see attached). If you can make it then please can you email me back by 19th November 2011 as I need to let the restaurant know how many will be coming ASAP. Also I need to ask for a £10.00 deposit in advance - hope thats ok? If you could pass this to me or Steve Mclean by the 19th then that would be brilliant. Any problems with getting the deposit to me then let me know and I'm sure we can sort something out.
Finally I need to know your food choices by 30th November 2011
Also please pass this on to anyone you think might be interested in coming.
Look forward to seeing you there.
CONTACT
tracepeters81@gmail.com
Cheers,
Trace :0)
Watch NYC Marathon highlights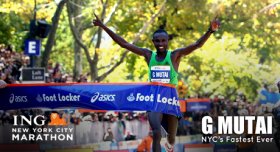 Men's NYC Video Highlights
Women's Video Highlights