Now read Chris McDougaull's feature story 'The Once and Future Way to Run' CLICK HERE
RicksRunning says;
Christopher McDougall [of Born To Run fame] hit the headlines this week with his claim of finding the secret to 'the lost art of perfect running'!
See video and article above.
I asked Steve Magness assistant coach and running form expert to none other than Alberto Salazar's elite squad what his take on this 'Secret' 100-ups was?
I asked; "What do you think of the 100-up drill, lifting the knees when running seems to be against the stretch reflex action you recommend?
Steve was not impressed, He said;
@stevemagness
You're correct. Sounds just like high knees. Bad idea!
SweatScience wrote a good article on McDougall's story! Bringing out the true facts and ripping McDougall to bits in the process!
Highly recommended reading
http://sweatscience.com/chris-mcdougall-on-the-one-true-way-to-run/
And now learn how to run the Steve Magness way, highly recommended;
http://www.scienceofrunning.com/2011/04/most-important-information-you-will.html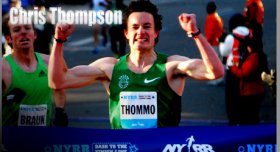 Video: Chris Thompson, Winner Of Dash To The Finish Line 5K | Competitor.com running.competitor.com/2011/11/news/v…